Buy Poland – new online service to help in finding furniture suppliers in Poland
Grupa MTP − the organiser of the largest furniture trade fair in Central and Eastern Europe MEBLE POLSKA − launched the Internet platform "Buy Poland". It is to help foreign customers in finding suppliers in Poland. The service is held under the patronage of the Polish Chamber of Commerce of Furniture Manufacturers.
Poland is currently the second largest furniture manufacturer in the world. The Buy Poland catalogue includes information about the major Polish manufacturers operating for many years on the international markets. They have a wealth of experience in the supply of products under their own brand, as well as subcontracting. There are big companies possessing operating capacities allowing the implementation of large orders, as well as smaller specialised companies highly successful in their niche.
In addition to detailed information about companies including a description of their activities, information on the latest products and useful contacts, the pages of Buy Poland also serve to publish the latest information and reports on the Polish furniture industry.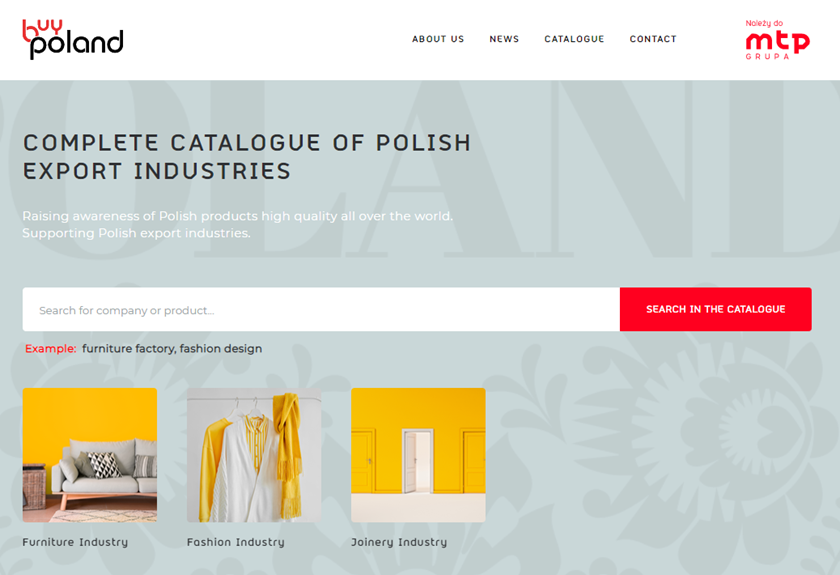 Production of furniture in Poland has doubled
Polish furniture industry is truly a global player. In the last ten years, the production of furniture in Poland has doubled and exports increased by 116%. In 2019, the furniture industry revenue amounted to nearly EUR 12 billion and increased by 5% year-on year. Poland is listed as the sixth largest furniture manufacturer in the world (following China, the USA, Germany, Italy and India). Polish producers achieve good results both in the sector of furniture made of chipboard and solid wood. Polish upholstered furniture gained international popularity, constituting the largest export group with a share of 26% (EUR 2.9 billion). Poland is also a global leader in the production and export of mattresses. During the last year, the highest growth rate was recorded for the kitchen furniture.
Check more: