Furniture recycling - a joint project of the Agata showrooms and FORTE
Customers of Agata Stores in Warsaw and Białystok will be the first to take advantage of the opportunity to recycle their old furniture free of charge, when ordering new collections from the "FORTE" Furniture Factories - a manufacturer that cooperates with the popular Polish furniture stores chain. The introduction of a solution called "Be eco! Recycle old furniture" is guided by concern for the environment and care for the convenience of customers.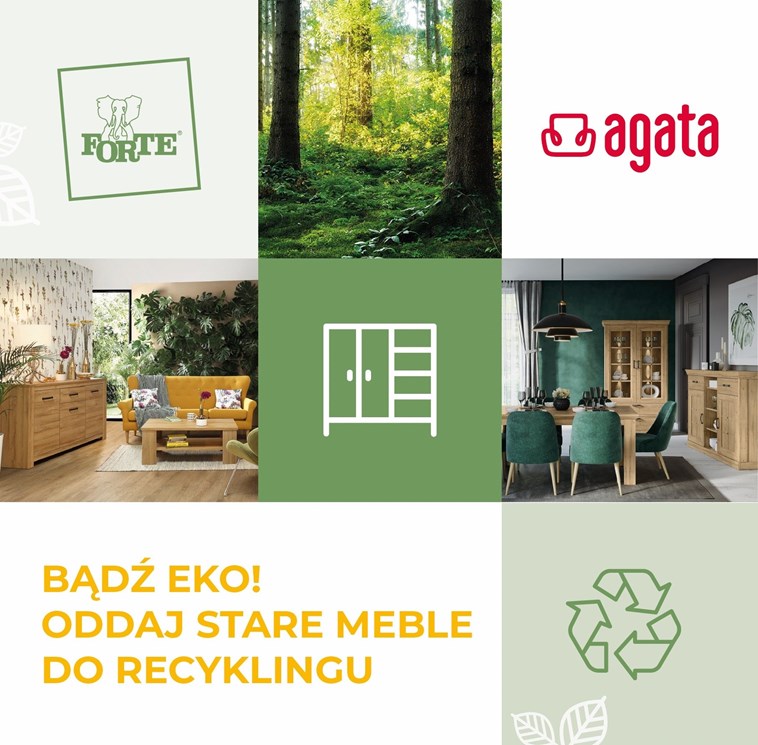 The pro-environmental project of Agata and FORTE showrooms is based on the possibility of ordering with home delivery furniture from this manufacturer with a simultaneous option to donate - for recycling - old elements of interior design. Unneeded furniture, depending on the customer's preference, can be picked up by the same delivery truck that previously brought the goods from the Agata Salon - this will allow, among other things, to reduce exhaust emissions, as well as to solve the eternal problem of customers of furniture stores related to disposal of old equipment. The project for the moment was launched in three points of sale (Warsaw - Targówek and Okęcie, Białystok) at the beginning of August.
- When establishing cooperation with FORTE in terms of collecting furniture from customers, we were guided by the idea of creating a consumer- and environment-friendly offer. We adopted a solution in response to the need to meet the challenge of sustainable development. The progress of our business is one thing, but it can go hand in hand with concern for waste management with an eye to the future - says Angelika Anusiewicz-Bochenek, deputy marketing director at Agata S.A., project leader on behalf of the brand.
Old furniture for recycling
All furniture made of wood or wood-based materials - such as chests of drawers, bookcases, display cabinets, wall units, shelves, closets, tables, desks, chairs or RTV cabinets - are eligible for collection and subsequent recycling. Customers of the Agata chain can donate any number of pieces of furniture for recycling purposes, regardless of how many FORTE brand products they purchase in the showroom. The purpose and condition of the donated furniture are irrelevant - what matters for customers who want to donate furniture is that it should fit into the delivery truck. This is why furniture for recycling should be unfolded or cut in advance to the maximum possible width - 2.48 meters. For the convenience of customers, there will also be an option to arrange a separate pickup date. Such an option will be available if the customer picks up the ordered products at the showroom or decides to give away more used furniture than one transport can accommodate. The offer does not apply to glass, metal, plastic and upholstered furniture.
The main goal: the environment
Furniture manufacturer FORTE realizes the recovery and recycling of wood waste, including by converting customers' old furniture into board. - Used furniture is most often placed in special landfills, where it lingers for hundreds of years, negatively affecting the environment. On the other hand, increasing restrictions and requirements in waste management mean that fees continue to rise, often resulting in the illegal disposal of bulky waste in forests, for example. Currently, our company uses about 95 percent of the waste generated in a closed cycle, while we plan to reach 100 percent by 2025. FORTE's priority is also to develop a closed-loop economy on the widest possible scale, including, among other things, sourcing wood waste from the market," explains Edyta Wilczynska, Board Representative for Environmental Protection and Management Systems at FORTE Furniture Factories.
The joint initiative of Agata Stores and Fabryka Mebli "FORTE" S.A. is a solution that will benefit everyone - both customers, who will be able to easily and for free get rid of furniture lying around at home, and the natural environment, because by recovering raw materials and using them to manufacture more products - we give them a new life, thus reducing the use of natural resources and protecting forests.
About the Agata S.A.:
Agata S.A. is a Polish chain of large-format furniture and home furnishings stores in Poland; comprising 32 large-format stores located in both large and medium-sized cities across the country. Through retail and e-commerce outlets, Agata S.A. offers collections for the living room, children's room, bedroom, dining room and kitchen, as well as a wide range of interior design products and accessories. The brand provides access to articles from more than 250 domestic and foreign manufacturers of dozens of private labels and a wide range of consultants, designers and experts.
About the FABRYKI MEBLI "FORTE" S.A. Capital Group.
FORTE is a leading Polish manufacturer of self-assembly furniture exporting its products to more than 40 countries. The company was founded in 1992 and made its debut on the Warsaw Stock Exchange in 1996. It has five modern production facilities located in northeastern Poland, including a chipboard factory launched in 2018. FORTE's offer includes a variety of furniture for furnishing almost all rooms: dining room, bedroom, living room, youth room, as well as for the cabinet and hallway. The company's production in 2021 amounted to 3.18 million pieces of furniture, with sales value of PLN 1,326 million.