MEBLE POLSKA 2022 Trade Fair postponed to May 16-19
As a result of thorough consultations with industry representatives as well as the analysis of the schedule of this year's European events, the organizers decided to postpone MEBLE POLSKA 2022 to May 16-19, 2022 (Monday-Thursday).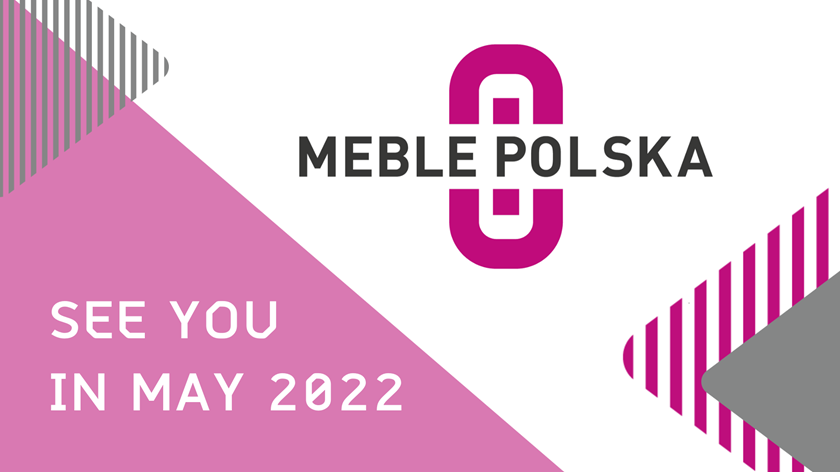 - We were fully prepared to hold the fair in February with the highest safety measures in place. However, we had to take into account travel concerns expressed by some visitors," says Józef Szyszka, MEBLE POLSKA director.
As at mid-January, buyers from 50 countries had already registered their participation in the Poznań furniture and interior design trade fairs. Unfortunately some key purchasing groups, mainly from Germany, due to the spreading Omikron variant, during their talks with the organisers announced a significant reduction in the number of their representatives at the February trade fair or even complete cancellation of their participation in the event. At the same time buyers indicated May as an alternative date for the fair in Poznań. Also the exhibitors, who were also informed about the possible absence of their clients in February, opted for the postponement of the fair date.
Rescheduling the trade fair will ensure that participants benefit as much as possible from taking part in it. - Everyone, both furniture manufacturers and buyers, is looking forward to the meeting. MEBLE POLSKA is currently the only furniture trade fair in Europe offering such a wide range of medium- and lower-priced furniture, explains Józef Szyszka. He adds that the information received from the exhibitors shows that moving the trade fair date to May will be additionally beneficial due to delays in order processing cycles. - In the current situation the May date seems much more beneficial for the interior design industry, too, adds HOME DECOR Director Aleksandra Wilk.
Grupa MTP stresses that the May date is a one-off change resulting from epidemic conditions. In subsequent years the MEBLE POLSKA and HOME DÉCOR trade fairs will be held traditionally in the first quarter of the year.
--------------------------------------------------------------------------
The MEBLE POLSKA trade fair is the world's biggest presentation of the offer of Polish furniture manufacturers. The last edition of this largest furniture contracting event in Central and Eastern Europe, held in February 2020 just before the outbreak of the pandemic, was attended by over 22,000 people from 69 countries. 38 percent of the visitors were furniture buyers from abroad.