MEBLE POLSKA trade fair more effective than IMM Cologne
Volodymyr Patis, President of the Ukrainian Association of Furniture Manufacturers, gave in an interview with the Polish monthly magazine "BIZNES.meble.pl" a very positive assessment of the joint appearance of Ukrainian companies at the MEBLE POLSKA 2022 Furniture Trade Fair. In his opinion, the presence in Poznań was more effective than the participation in the IMM Cologne Trade Fair.
"Before the outbreak of war, we were in Cologne. We had a joint stand there. The presentation in Poznań is the first exhibition after the outbreak of war. The most effective, more so than Cologne" - Volodymyr Patis says in an interview. As he points out, the Ukrainian stand was visited by a lot of furniture buyers, mainly from abroad. "Europe, the Middle East, Israel, the Netherlands, Denmark, Germany. I talked to the exhibitors, most of them are satisfied." - he adds.
MEBLE POLSKA Director Józef Szyszka is not surprised by Volodymyr Patis' opinion. "We are pleased to receive such a positive opinion, but this is not the first signal that the MEBLE POLSKA trade fair is rated very highly in terms of efficiency. We have already heard from leading exhibitors in previous years, who stated clearly that Poznań is where the best business is done," - says Szyszka. As he emphasises, this is the result of a conscious and long-standing strategy of the trade fair organiser - Grupa MTP, which, since the change of the trade fair formula in 2010, has consistently focused on developing the order nature of the event and its global reach. This year, the Poznań furniture trade fair was visited by furniture buyers from 71 countries. The share of visitors from abroad was as high as 53 per cent!
You can read the entire interview with the head of the Ukrainian Furniture Manufacturers Association, in which he also talks about the situation of the furniture industry in war-torn Ukraine, HERE (the article is in Polish - please use Google translator)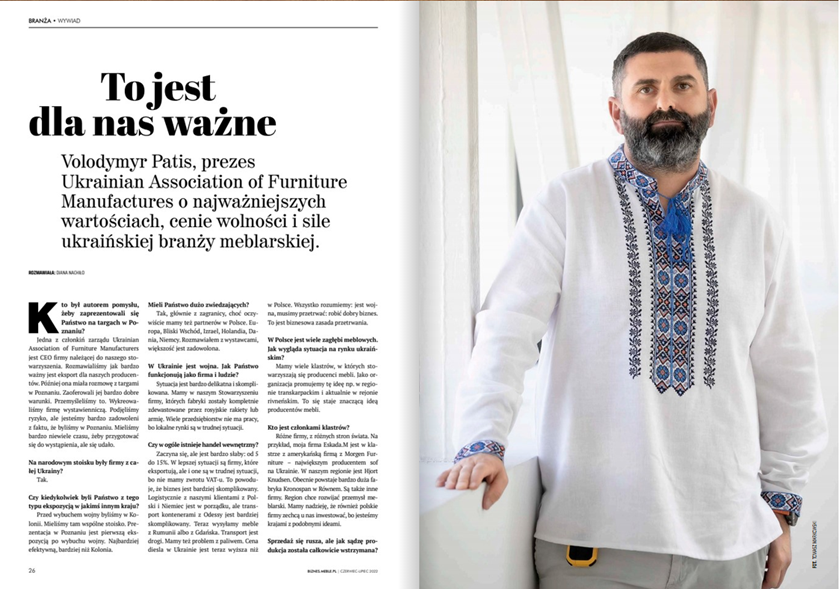 Despite the ongoing war in eastern Ukraine, more than 25 companies from the country presented their offer during the furniture trade fair in Poznań. Most of them were located at the joint national stand on the mezzanine in pavilion 5. The exhibition of Ukrainian companies on all days of the fair was very popular with visitors from all over the world. Buyers emphasised that Ukrainian furniture has made considerable progress in recent years, both in terms of design and quality of workmanship.
You can find out more about the appearance of Ukrainian companies at the Meble Polska fair in an interview with the organiser of this collective exhibition, Oksana Donska, member of the board of the Ukrainian Furniture Manufacturers Association.