The European market for RTA furniture
A detailed analysis of the ready-to-assemble (RTA) furniture sector in Europe published by CSIL.
With a value amounting to over EUR 15 billion, the ready-to assemble (RTA) furniture industry throughout Europe outperformed the fully assembled one, recording a growth of about 17% (2016-2021). Poland and Germany are the leading producing countries. Over the last twenty years, Eastern Europe eroded market shares to some traditional furniture manufacturing countries.
On the demand side, the consumption of RTA furniture in Europe recorded a cumulative growth of +20% in the time span 2016-2021. Germany, the UK, France, and Italy are the largest markets for RTA furniture in Europe, accounting for over one half of the total market.
Comparison between RTA and fully assembled furniture production in Europe
2016-2021 (index 2016=100)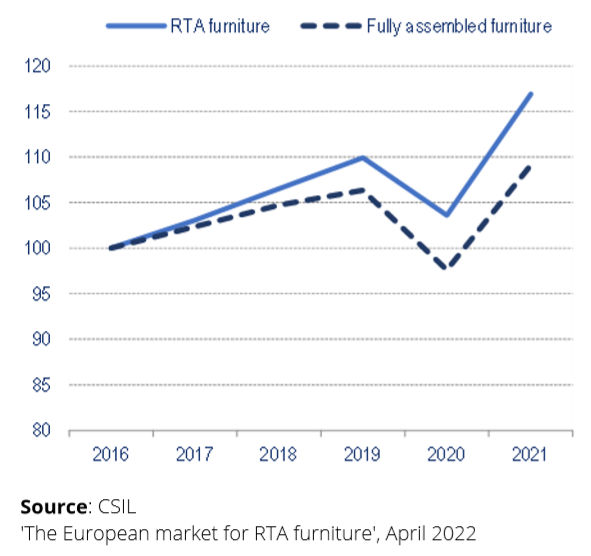 The new edition of the CSIL report 'THE EUROPEAN MARKET FOR RTA FURNITURE', issued in April 2022, is aiming at providing the most up-to-date information on the following topics:
The value of the RTA furniture consumption and production (2016-2021) in each market and in Europe
The main features shaping the competitive system of each country: leading manufacturers for RTA furniture production, sector concentration, M&A operations
The main supply features of the industry in terms of product type, support materials, finishing
The analysis of the distribution system for RTA furniture: breakdown of the market by distribution channels and listing of leading RTA furniture retailers (large-scale furniture chains, DIY, e-tailers)
FOR THE TOP 15 COUNTRIES FOR THE RTA FURNITURE INDUSTRY (Belgium-Lux, Czech Republic, Denmark, France, Germany, Italy, Lithuania, Netherlands, Norway, Poland, Romania, Slovakia, Spain, Sweden, United Kingdom):
RTA furniture production and consumption values
Rankings of the leading RTA furniture manufacturers
Profiles of the leading players
Distribution system: breakdown of the RTA furniture market by distribution channel
Rankings of leading RTA furniture retailers by total turnover
PRODUCTS CONSIDERED: Living/dining room furniture (including sets for living/dining room, bookshelves, tables and chairs); bedroom furniture; children furniture; furniture for office/home office; kitchen furniture; other furniture (occasional furniture, bathroom furniture, outdoor furniture, etc.). Soft furniture (upholstered furniture and mattresses) is excluded.
FOR MORE DETAILS, PLEASE VISIT https://www.worldfurnitureonline.com/research-market/the-european-market-rta-furniture-0058482.html
============================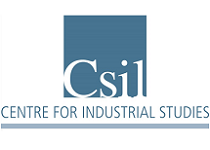 ABOUT CSIL FURNITURE MARKET RESEARCH – CSIL boasts a core business unit specialized in industry studies and market research for the furniture and furnishings sector, customizing a wide range of services in response to specific needs and supporting companies and institutions in their process of selection and analysis of market opportunities and identifying development strategies.
For more information
www.worldfurnitureonline.com 
csil@csilmilano.com