The Polish furniture industry one year after the outbreak of the SARS-COV-2 pandemic
The first day of furniture and interiors business meetings MEBLE POLSKA Special Edition is behind us. The system has already scheduled over 1500 meetings with traders from countries such as: Austria, Belarus, Bulgaria, Croatia, Czech Republic, Cyprus, Denmark, Estonia, Finland, France, Germany, Greece, Hungary, India, Indonesia, Ireland, Israel, Italy, Qatar, Latvia, Lithuania, Kazakhstan, Kenya, Mexico, Moldova, Mongolia, Netherlands, Poland, Portugal, Russia, Romania, Saudi Arabia, Slovakia, Slovenia, Spain, Sweden, United States, Tunisia, Turkey, United Kingdom and United Arab Emirates.
Lectures on the virtual stage
The online business meetings will be complemented by a number of  virtual events. It will feature nearly 30 speakers from Poland and abroad. Every day is dedicated to a different topic. Apart from the lectures aimed at Polish furniture buyers on the first day, all other events will be translated into English.
MAY 25 - On the second day experts take a look at the impact the pandemic has had on the Polish furniture market.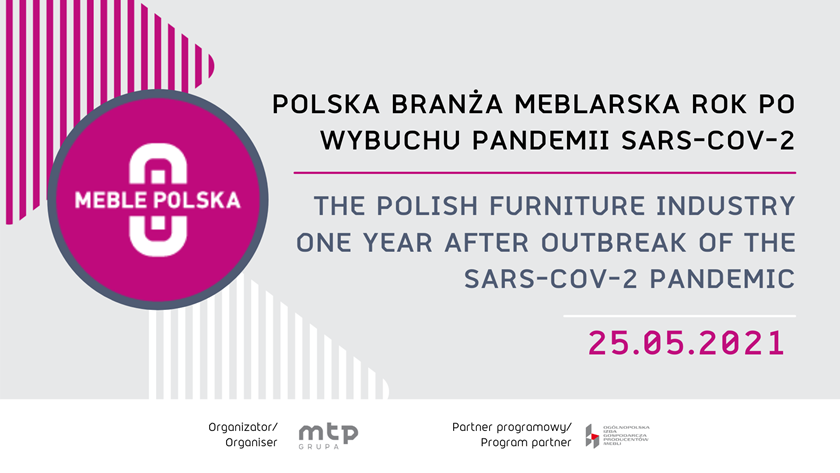 Time (CET)

Session title

Speaker

10:00 – 10:45

Polish furniture industry - market commentary and prospects for 2021

Kamil Mikołajczyk

Santander Bank Polska

11.05-11.50

How to successfully scale your Home & Living business in online B2B on export markets?

Selling Home & Living products online has specific challenges. Making your business e-commerce ready, finding an experienced online partner and sharing the areas of expertise along the value chain will allow you to easily enter and scale your business on export markets.

Tomasz Kosobucki, Jakob Nyirö, WAYFAIR

12.10 - 12.55

Polish furniture industry - conclusions after one year of the SARS-COV-2 pandemic based on the Polskie Meble Outlook report.

Tomasz Wiktorski

B+R STUDIO

13.15 - 14.00

E-commerce in the B2B formula - presentation of the conclusions of the Santander Bank report.

During this meeting, we will try to answer the following questions:

How much is the B2B e-commerce market in Poland worth?
What are the advantages of this sales model?
What are the biggest selling companies in the B2B e-commerce model?
In which markets has this model become popular, where is the potential still available?
What are the barriers to the development of B2B e-commerce in Poland?

Maciej Nałęcz

Santander Bank Polska

14.35 - 15.00

Changes in retail prices of furniture on the furniture market - conclusions from the new B+R STUDIO study.

Tomasz Wiktorski

B+R STUDIO
The third day is intended primarily for exporters and companies that aspire to win over new foreign markets. Export matters will also be discussed on day four. The PAIH experts will present more information about the furniture sector on Arabic, Canadian, Colombian and US markets.
We invite you to attend our lectures.